You must be wondering if Budapest is cheap to eat and drink as you are doing the budget planning for your trip. What are food prices in Budapest? Is Budapest expansive for food and drinks?Is food cheap in Hungary? are some of the questions going through your mind.
There is a movie that was released in 2004 called EuroTrip.The movie was about 4 young guys and girls who start their European Journey from Western Europe on train.By accident, they reach the Eastern Europe which includes Poland, Slovakia, Czech Republic and Hungary.
The best places to stay near Budapest City center are
They have spent most of their money in the first part of their trip and are left with almost pennies (a dollar with 83 cents) in their pocket.
However, up to their surprise, everything is so cheap in Eastern Europe that with this travel tip, they live like kings for the next few days.
This is certainly not true now in Budapest,as cost of food has risen the most in Europe since June 2022.
If you are moving to Budapest for a longer period, it is worth checking cost of living in Budapest.Also if you plan to visit Budapest for a short trip, it is worth checking Horizn-Studios for light weight and quality luggage. You can also get a flat discount of 20% on new items using code HSxBudapezt.
Budapest prices for food and drink in 2023
In 2023, Prices for food and drink in Budapest have gone high almost 25%.
Although Hungarian currency has kept its downward trend against dollar, euro and pound, but prices of food and goods have definitely got the upward trend.
Despite all the high prices, one of the major attractions of Budapest is its cheap liquor prices,compared to western Europe.
The food prices in Budapest are comparable to Western Europe.
In fact, some may say that general food prices in USA are cheaper than what you get in Budapest.
Budapest Food prices in Turkish Restaurants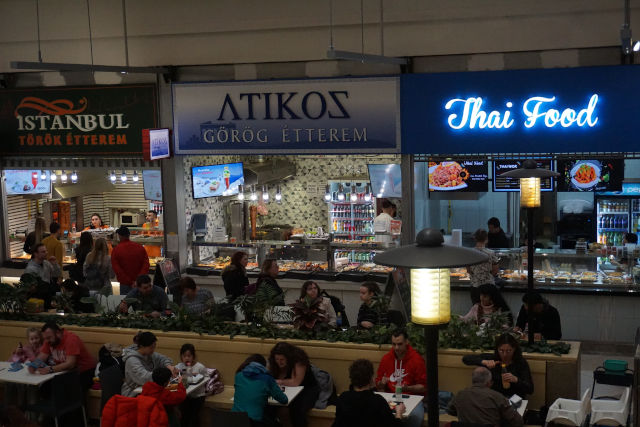 Food prices in Turkish restaurants of Budapest have increased considerably in 2023.
Anytime you feel hungry in Budapest, donor kebabs and gyros places in Budapest are there to rescue you.
Because bakeries,burger places and other restaurants are closed after midnight in Budapest.
Donor kebab or Shawarma is called Gyros(ji-rose) in Hungary.
Budapest food Price for Donor Kebab|Gyros
Gyros is the cheapest food in Budapest, available easily in every corner.
The price of a small doner kebab used to be 500-650 HUF(2.02USD,1.76Euros,1.49GBP) in Jan 2022.
In 2023, prices for small doner have increased to 1200-1300 HUF (2.80USD,2.43EUR,2.07GBP).
Keep in mind that small donor in Budapest can't satisfy appetite of a hungry person and does not include chips or drink.
The bigger size doner kebab in Budapest (comes with chips, salad) used to be around 1200-1600HUF(4.96USD,4.32EUR,3.68).
In 2023, after devaluation of HUF, the prices of a big size doner kebab is around 2500-2800 HUF. (6.82USD,5.98EUR,5.1GBP).
Keep in mind that drinks (water/COKE/Fanta/Sprite) in 250-300ml size come at 350-450 HUF(1-1.5$) at any Turkish Restaurant.
Whereas from a TESCO, SPAR, ALDI, CBA or LIDL, a 250ml bottle will cost 250HUF(.80$).
Budapest Food prices for deals in Turkish restaurants
A food deal normally refers to, when you are buying a food item(burger or donor) with additional things like Chips and cold drink.
(Gyros in pita bread+cold drink) small meal price in Turkish restaurants in Budapest is around 1200 HUF(3.72USD,3.24EUR,2.76GBP)
Whereas a complete (Gyros in plate+fries+drink) Turkish meal platter price in Budapest is 2500 HUF (7.75USD,6.75EUR,5.75GBP) around 5 euros.
The prices of food in Budapest in Turkish restaurants may vary depending upon where the restaurant is located.
For example, Budapest Keleti train station, Deak Ferenc ter or around Vaci street Budapest, the prices of food may be on the higher range, but you can expect fresh meal as more people buy.
Same goes with the restaurants near Heroes Square Budapest, where average price of a meal can be around 5000-8000 HUF per person in a good restaurant.
On the other hand, food prices on secluded place may be lower but the food may not be fresh.
Bigger Turkish restaurants in Budapest have more than 8 varieties of dishes and Salads, around 4 bar-b-q dishes, more than 6 types of sweets.
Budapest food prices in Fast food restaurants 2023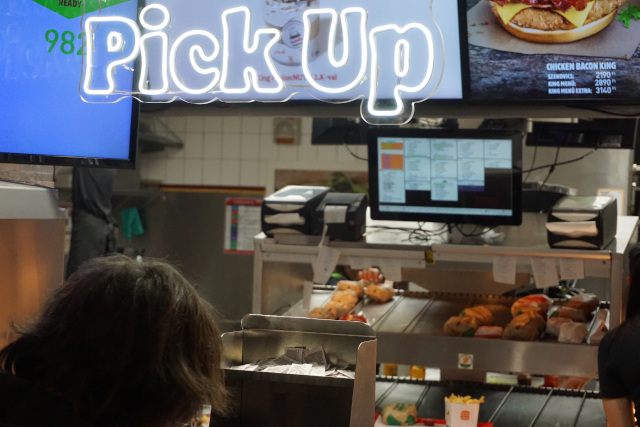 Fast food prices in Budapest are somehow consistent,despite the devaluation of the Hungarian currency.
Some of the famous international fast food chains in Budapest include the following.
Subway used to exist in Budapest but has almost closed in majority of the locations.
One of the top attractions in Budapest is the Great Synagogue. If you plan to visit, make sure to book your Great Synagogue ticket in advance to avoid long queues.
The price of a simple burger (without drinks and fries) in any international fast food chains in Budapest is around 1100 HUF(3.4USD,2.97EUR,2.53GBP) , but this one may not be even sufficient for a small kid.
However, if you want to buy a deal including (fries and drinks) in a Budapest fast food place its ranging 1500-2000 HUF (6.20USD,5.40EUR,4.60GBP) for a medium size deal.
Food prices in Budapest fast food restaurants may go up to 2800 Huf per person, if you go for the larger deals.
Depending upon location, some of the fast food chains provide unlimited drinks if you buy a food meal, as drinks machine is kept separate for consumers to fill it themselves.
On the other hand, Ketchup or Mayonnaise does not come as complimentary in international fast food restaurants in Budapest.
You have to pay around 150 huf (0.46USD, 0.40 EUR, 0.35 Pounds) for each small box of ketchup,
A pizza piece from a small shop is around 350-400 HUF(1$).
Budapest Breakfast Prices 2023
Despite considered an economical place to live, prices of Breakfast in Budapest in an average place is around 2000 -2500 HUFs (around 8USD/GBP/EUR).
In Budapest, You can buy a breakfast in form of variety of breads. Cheap Breakfast in Budapest can be bought from any supermarket including a croissant, and coffee pack in under 800-1000 HUF (3 USD,GBP,EUR).
Some super markets in Budapest do sell cold sandwiches with vegetarian,meat and bacon ingredients.
Food prices in Budapest Asian restaurants 2023
There are many Indian, Thai and Chinese restaurants in Budapest.
In case you want to try a proper restaurant, the price per person may vary from 4000-6000 HUF($13-$20).
The food prices in restaurants in Vaci Utca and Vorosmarty ter are the highest as these are prime locations for the tourists.
On Vaci Utca Budapest, You can check the available menu and respective prices, in front of each shop.
Budapest drink prices
Budapest drink prices are considered to be the best in Europe.
In fact, this is one of the reason why people from all around the world visit Budapest for drinking.
In pubs closer to town center, the rates for alcoholic drinks are a bit higher than the non-tourist areas.
However, It's still cheaper compared to other places around the world.
A beer from grocery stores varies from 290-390 HUF(.80 to 1.2$) depending upon the brand for a half liter can.
Make sure to read our guide about Budapest beer prices.
Non alcoholic drinks prices in Budapest
Non alcoholic drinks prices in Budapest at Major Markets are almost similar.
Major markets in Budapest city for grocery include Tesco,ALDI,LIDL,CBA,SPAR.
Price of a 1.5 liter water bottle in Budapest grocery stores ranges from 105 to 150 huf (0.33USD,0.28EUR,.24GBP).
However, some brands like Evian and JanaBaby are quite expansive.
Jana still water price in Budapest is 230 huf/500ml while Evian water bottle is 430 huf/500ml.
You can check the water bottle prices in Tesco Budapest.
Prices for Non alcoholic drinks at SPAR Budapest can be checked here.
Water bottle prices in Budapest
In Budapest, you will find water bottles with caps in either of 3 colors.
The lid colors for water bottles in Budapest will be either pink,blue or green.
The bottles with pink color cap contain water without Gas,i.e. if you want to drink still water, you should buy the water bottles with pink lid/cap.
Green lid colored water bottles contain carbonated water but with mild addition of gas.
Whereas the blue colored lid contain carbonated water with considerable amount of gas.
As in some countries, drinking carbonated water is not common, if you are confused which water to buy, you should buy the water bottles with pink cap.
In Budapest, price of mineral water is same either you buy carbonated or non-carbonated water, if it is from the same company.
Also, in Budapest they do not charge extra for a water bottle like they do it in Austria or Germany.
You can throw the water bottle in dustbins for plastic material.
Drinking Water Brands in Budapest
You must be wondering what drinking water brands are available in Budapest.
Some of the Mineral water brands in Budapest are the following.
SzentKiralyi (Good taste and recommended)
Nestle (a bit cheaper but good taste)
NaturAqua (Average Price is reasonable)
JanaBaby (The most expansive drinking water)
PrimaVera(Cheapest of all)
Theodora
Evian
Juices and Fruit drink prices in Budapest
Juices and fruit drink prices in Budapest vary based upon the brand and the type of juices you want to buy.
A 1 liter juice pack price in Budapest supermarket can range from 240 HUF (0.71USD,0.62EUR,0.53 GBP) to 650 HUF(2.0USD,1.76EUR,1.50GBP).
The cheapest fruit drinks in Budapest are the ones coming from the bigger grocery stores' own brands.e.g. TESCO,ALDI,LIDL, etc have their own brands which have 1 liter juice around 240 HUF (0.71USD,0.62EUR,0.53 GBP).
Common fruit drinks and Juice brands in Budapest are the following.
Rauch
SIO
Hohes C
Cappy
Topjoy
Bravo
HeyHo

The best quality juices in supermarkets in Budapest come from Rauch and Hohes C.Also the most expansive juices come from the same brands.
Prices of 1 liter juices in Budapest from Rauch are 650 HUF(2.0USD,1.76EUR,1.50GBP).
While Hohec C juices prices are around 600 HUF. You can check the latest prices of juice prices from Tesco.